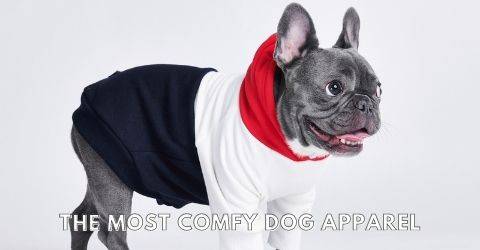 FAST SHIPPING & EASY RETURNS
All orders are shipped within 3 business days, you can also return or exchange within 14 days of delivery.
Fit Tested by Thousands of Dogs
Our measurement and sizes are based off data and reviews collected from thousands of dogs.
Our unique cotton - polyester - spandex blend of fabric is specifically made for dogs. It is designed to be soft, stretchy and comfortable
Dog Clothing & Accessories
When shopping at SPARK PAWS, make sure you check out our dog winter jackets, dog raincoats, dog hoodies, dog sweaters, dog jumpers and more. Whether you have a small sized dog like Yorkshire terrier or a medium sized dog like French Bulldog, Boston Terrier, Pug or large size breeds such as Pit-bulls, American Bulldogs or Stafford Terriers. You want your pup to be warm, stylish and swagged out. If you're a fashionista or even just getting ready for cold winter weather, SPARK PAWS is the right place to be. Rain and salt can be harsh on the skin and dirty after walks, a waterproof dog coat and a set of dog pom pom hats can help your dog stay warm and dry. With our soft and stretchy streetwear dog hoodies, your dog will be super warm and comfortable with our polyester cotton spandex blend fleece lined fabric. SPARK PAWS also designs a variety of dog jumpers, dog coats & jackets, dog accessories, dog harnesses and dog chains. With all of the quality original products at SPARK PAWS, you and your beloved dog will be turning heads everywhere you go! This is where you find the best high quality designer dog supplies!