Get your dog styling like a rockstar. Rich rose gold plated solid chain, machine-polished surface, made with stainless steel. This chain is made to last, it can be used as a fashion piece or as a collar. The 20mm Miami Cuban chain includes a fold-over clasp that has a large loop for leash and a smaller loop for dog tags.

Stainless Steel construction, hypoallergenic
Buffed to a brilliant luster, this chain secures with a sturdy buckle
Can be used as a collar for walks or for style

Will not fray, attract dirt or get chewed through like traditional collars

Approximately 20mm wide, 3mm thick

SIZE GUIDE
Suitable for Neck Circumference:
25cm or 9.8 inches
30cm or 11.8 inches
35cm or 13.8 inches
40cm or 15.7 inches
45cm or 17.7 inches
50cm or 19.7 inches
*Leave 1-2 fingers space around neck for a relaxed fit.
Match the collar with an Initial Letter Pendant for a complete set.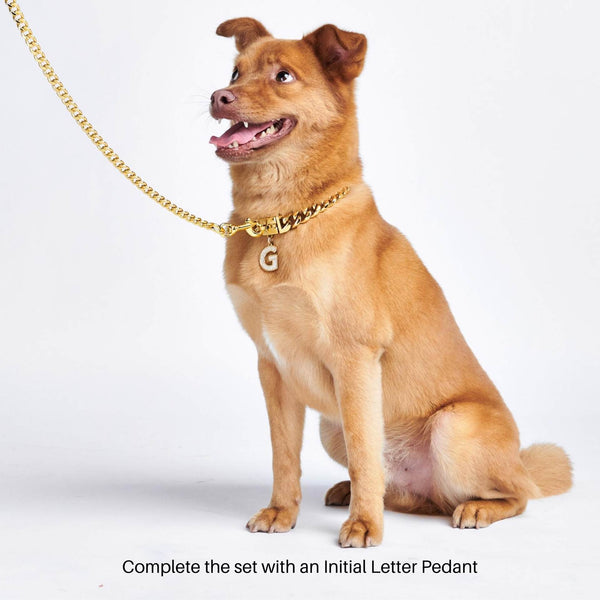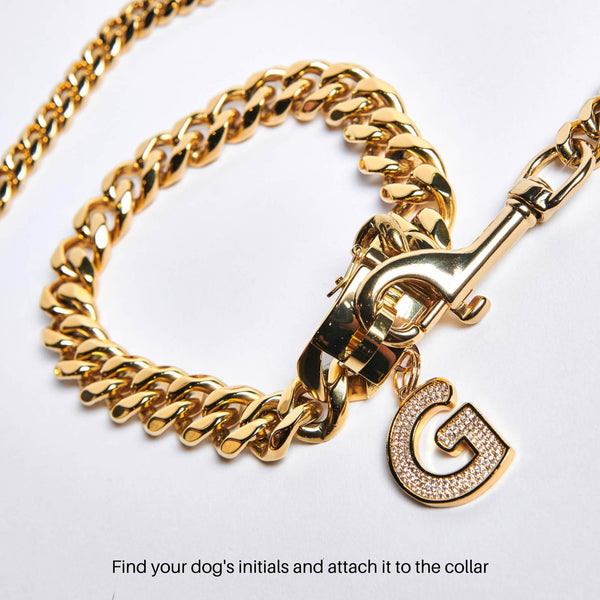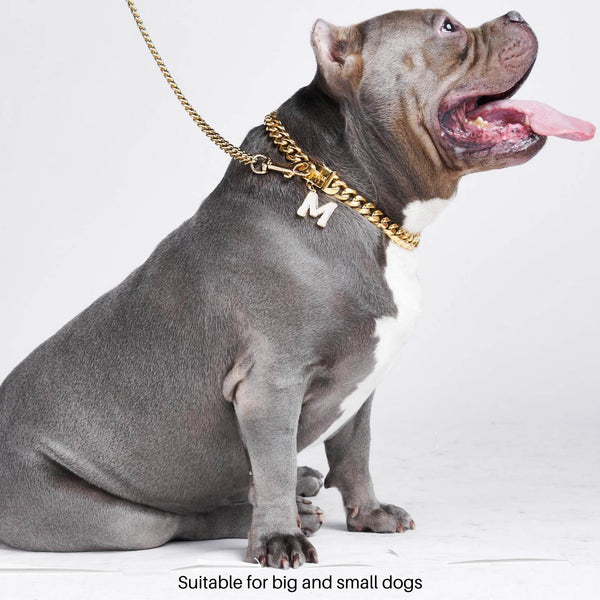 Find your dog's Initial Letter Pendant here.
Can I return if the size is wrong?
We can exchange and return all items within 14 days of delivery as long as it's in brand new condition. Our packaging includes a special inner layer of protective wrapping to avoid hairline scratches during shipment. Once you receive the item, we advise that you size the chain around your dog's neck first before unwrapping the inner protective layer.

How much does the Cuban Collar weigh?
The Cuban Collar weighs between 150g - 260g depending on size.

What is the Cuban Collar made of?
Each collar is made with solid 316L stainless steel, and has a polished finish. It is hypoallergenic and will not cause odor or allergies.

Can the Cuban Collar be used for walks?
Yes, the links and clasp are extremely sturdy. There is also a loop on the clasp to connect the leash.
How do I clean the Cuban Collar?
Soak in warm water for a few minutes, lay the chain flat and use a soft cloth to clean the surface. Avoid using dish detergents as it may tarnish the surface.

How do I preserve the polish/shine?
If the collar has come in contact with salt, we recommend giving it a quick rinse to preserve the shiny surface.

By Country

Business Days

United States
2 to 6
Canada
4 to 10
Australia & New Zealand
4 to 9
United Kingdom
5 to 10
France, Germany, Italy, Spain
4 to 9
Rest of Europe
5 to 10
Japan, Korea, Singapore
5 to 10
By Region
European Union
5 to 10
Middle East
10 to 15
South East Asian
10 to 15
South America
15 to 25
The Caribbeans
15 to 25
*W
e will process your order within 3 business days and provide step by step tracking for the package through email and SMS.
*Due to Covid-19 disruptions, there may be slight shipping delays in some regions.
We will gladly help you

Return or Exchange

your items within 14 days after

receiving

as long as the items are in brand new condition. Just shoot us an email

service@sparkpaws.com

and our customer service team will help you out.
Frequently Purchased Together